Natural Disaster
by Kim Knight, The Art of Health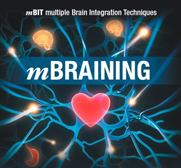 Do you know you have multiple brains?
Are you aware you have a complex and intelligent brain in your gut which contains over 500 million neurons and is the equivalent size and complexity of something like a cat's brain?
And would you like to understand why people exhibit personality changes after heart surgery or why negative emotions such as anger and hostility can damage the heart and lead to coronary disease?
Do you know your 3 brains develop in a different order in the womb and why this is significant?
All these topics and more will be looked at during the extraordinary free mBraining webinar which launches this week on the Art of Health EMOTIONAL INTELLIGENCE SUMMIT.
Marvin Oka and Grant Soosalu, creators and authors of the revolutionary new mBraining mBIT technology, which shows how to align and integrate our multiple brains, and will be broadcasting the latest findings in neuroscience to a global audience.
During their 2 free online webinars they will explain:
What mBraining is, what our 3 brains are and why we need to use them to achieve our maximum potential out of life.
What actually constitutes a working 'brain' and why our head brain is not the only brain we need to pay attention to
How the knowledge of multiple brains has been around for thousands of years and why it is only just being proven by science
How our 3 brains develop from the time we are in the womb including which brains develop first and why this is significant.
Why we need to understand the prime functions of each brain and know which order to use them in!
Why people can exhibit personality changes after heart surgery and why negative emotions such as anger and hostility can damage the heart and lead to coronary disease
How despair, depression, hopelessness and apathy are linked to heart disease and how positive emotions are an antidote to heart disease
Fortunately mBraining has multiple solutions to help you use your multiple brains!
Marvin will also share:
How our gut brain exhibits neuro plasticity and can learn, form memories, take on new behaviours and grow new neurons, and what this means for people with chronic gut conditions
The 5 different classes of issues which arise for people when their brains are not aligned or fully integrated
The number one thing you can do to align and bring your 3 brains into 'coherence' which is so simple you will probably have completely overlooked it!
How we can use positive emotions to as an antidote to heart disease
How it may be more reliable to trust your heart brain than your head brain when making decisions
The mBIT roadmap, an explicit framework that outlines a clear path for working with and getting the most out of your 3 brains!
and a whole heap more!
Free mBraining Webinar
Click here to register for this exciting mBraining webinar, and the complete EMOTIONAL INTELLIGENCE SUMMIT  - it's free!
Free mBraining webinar 1-3pm Monday 3 September (US PST) and on replay for 5 days http://www.timeanddate.com/worldclock/converter.html
This webinar marks the launch of the ground-breaking EMOTIONAL INTELLIGENCE SUMMIT, where 28 experts in the use of our 3 brains have come together to share how to transform every facet of our life: health, wealth, career, parenting, relationships, education and more. Plus, how emotional intelligence is a pre-requisite on the path of soul and evolutionary development, and how emotions affect the environment.
Your free mBraining webinar ticket includes:
Free Live 90 minute Webinar value USD $47 *
Free Online Webinar Replay for 5 days if you are unable to attend live or want to replay the event online
Free audio MP3 on 'Multiple Brain Integration and Wellness' – value USD $20
Free Entry for live participants into the Prize Draw to win a signed copy of the book 'mBraining' plus a personal 'mBraining' coaching session valued at $495*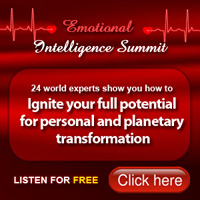 * Terms and Conditions of Live Event Launch:
Participants must be on the live seminar to enter prize draw
Limited phone lines available – first-come, first-served
Limited live webcast available - first-come, first-served
If all phone and webcast lines full, you can access the replay until 30 Oct 2012
Only one free bonus per person
Bonus Mp3 only available while EQ Summit on sale during September 2012
Numbers limited on the live call, first-come, first-served. If you miss the live call, you can still watch the online replay
Read Full Post
|
Make a Comment
(
None so far
)
The following article was received in an enewsletter from my colleagues at Balanced Energy, who were passing on these interesting tips from Doug Cop, the Rescue Chief and Disaster Manager of the
American Rescue Team International (ARTI). Given the recent earthquake in New Zealand, I thought it was important enough to share as widely as possible.
PS  - Since posting this article I also discovered that according to some people this information is a hoax. I find it extraordinary that someone would make such information up over such a serious issue. Personally I have no idea whether it is true or not, and may in due time upon further investigation take this blog down. For the moment, I leave it here. Please investigate and decide for yourself if the information is true or not.
The Triangle of Life
EXTRACT FROM DOUG COPP'S ARTICLE ON THE: 'TRIANGLE OF LIFE'
My name is Doug Copp. I am the Rescue Chief and Disaster Manager of the American Rescue Team International (ARTI), the world's most experienced rescue team. The information in this article will save lives in an
earthquake.
I have crawled inside 875 collapsed buildings, worked with rescue teams from 60 countries, founded rescue teams in several countries, and I am a member of many rescue teams from many countries.
I was the United Nations expert in Disaster Mitigation for two years. I have worked at every major disaster in the world since 1985, except for simultaneous disasters.
The first building I ever crawled inside of was a school in Mexico City during the 1985 earthquake. Every child was under its desk. Every child was crushed to the thickness of their bones. They could have survived by
lying down next to their desks in the aisles. It was obscene, unnecessary and I wondered why the children were not in the aisles. I didn't at the time know that the children were told to hide under something.
Simply stated, when buildings collapse, the weight of the ceilings falling upon the objects or furniture inside crushes these objects, leaving a space or void next to them. This space is what I call the 'triangle of life'. The larger the object, the stronger, the less it will compact. The less the object compacts, the larger the void, the greater the probability that the person who is using this void for safety will not be injured. The next time you watch collapsed buildings, on television, count the 'triangles' you see formed. They are everywhere. It is the most common shape, you will see, in a collapsed building.
TIPS FOR EARTHQUAKE SAFETY
1) Most everyone who simply 'ducks and covers' WHEN BUILDINGS COLLAPSE are crushed to death. People who get under objects, like desks or cars, are crushed.
2) Cats, dogs and babies often naturally curl up in the fetal position. You should too in an earthquake. It is a natural safety/survival instinct. You can survive in a smaller void. Get next to an object, next to a sofa,
next to a large bulky object that will compress slightly but leave a void next to it.
3) Wooden buildings are the safest type of construction to be in during an earthquake. Wood is flexible and moves with the force of the earthquake. If the wooden building does collapse, large survival voids are created.
Also, the wooden building has less concentrated, crushing weight. Brick buildings will break into individual bricks. Bricks will cause many injuries but less squashed bodies than concrete slabs.
4) If you are in bed during the night and an earthquake occurs, simply roll off the bed. A safe void will exist around the bed. Hotels can achieve a much greater survival rate in earthquakes, simply by posting a sign on the back of the door of every room telling occupants to lie down on the floor, next to the bottom of the bed during an earthquake.
5) If an earthquake happens and you cannot easily escape by getting out the door or window, then lie down and curl up in the fetal position next to a sofa, or large chair.
6) Most everyone who gets under a doorway when buildings collapse is killed. How? If you stand under a doorway and the doorjamb falls forward or backward you will be crushed by the ceiling above. If the door jam falls sideways you will be cut in half by the doorway. In either case, you will be killed!
7) Never go to the stairs. The stairs have a different 'moment of frequency' (they swing separately from the main part of the building). The stairs and remainder of the building continuously bump into each other until structural failure of the stairs takes place. The people who get on stairs before they fail are chopped up by the stair treads – horribly mutilated. Even if the building doesn't collapse, stay away from the stairs. The stairs are a likely part of the building to be damaged. Even if the stairs are not collapsed by the earthquake, they may collapse later when overloaded by fleeing people. They should always be checked for safety, even when the rest of the building is not damaged.
8) Get Near the Outer Walls Of Buildings Or Outside Of Them If Possible - it is much better to be near the outside of the building rather than the interior. The farther inside you are from the outside perimeter of the
building the greater the probability that your escape route will be blocked.
9) People inside of their vehicles are crushed when the road above falls in an earthquake and crushes their vehicles; which is exactly what happened with the slabs between the decks of the Nimitz Freeway. The victims of the San Francisco earthquake all stayed inside of their vehicles. They were all killed. They could have easily survived by getting out and sitting or lying next to their vehicles. Everyone killed would have survived if they had been able to get out of their cars and sit or lie next to them. All the crushed cars had voids 3 feet high next to them, except for the cars that had columns fall directly across them.
10) I discovered, while crawling inside of collapsed newspaper offices and other offices with a lot of paper, that paper does not compact. Large voids are found surrounding stacks of paper.
Spread the word and save someone's life… The Entire world is experiencing natural calamities so be prepared!
'We are but angels with one wing, it takes two to fly' – Documentary on how to survive an earthquake
In 1996 we made a film, which proved my survival methodology to be correct. The Turkish Federal Government, City of Istanbul, University of Istanbul Case Productions and ARTI cooperated to film this practical,
scientific test. We collapsed a school and a home with 20 mannequins inside. Ten mannequins did 'duck and cover,' and ten mannequins I used in my 'triangle of life' survival method. After the simulated earthquake
collapse we crawled through the rubble and entered the building to film and document the results. The film, in which I practiced my survival techniques under directly observable, scientific conditions, relevant to
building collapse, showed there would have been zero percent survival for those doing duck and cover.
There would likely have been 100 percent survivability for people using my method of the 'triangle of life.' This film has been seen by millions of viewers on television in Turkey and the rest of Europe, and it was seen in
the USA, Canada and Latin America on the TV program Real TV.
Ronald D Smith
City of L.A. – Info Technology Agency
Read Full Post
|
Make a Comment
(
None so far
)